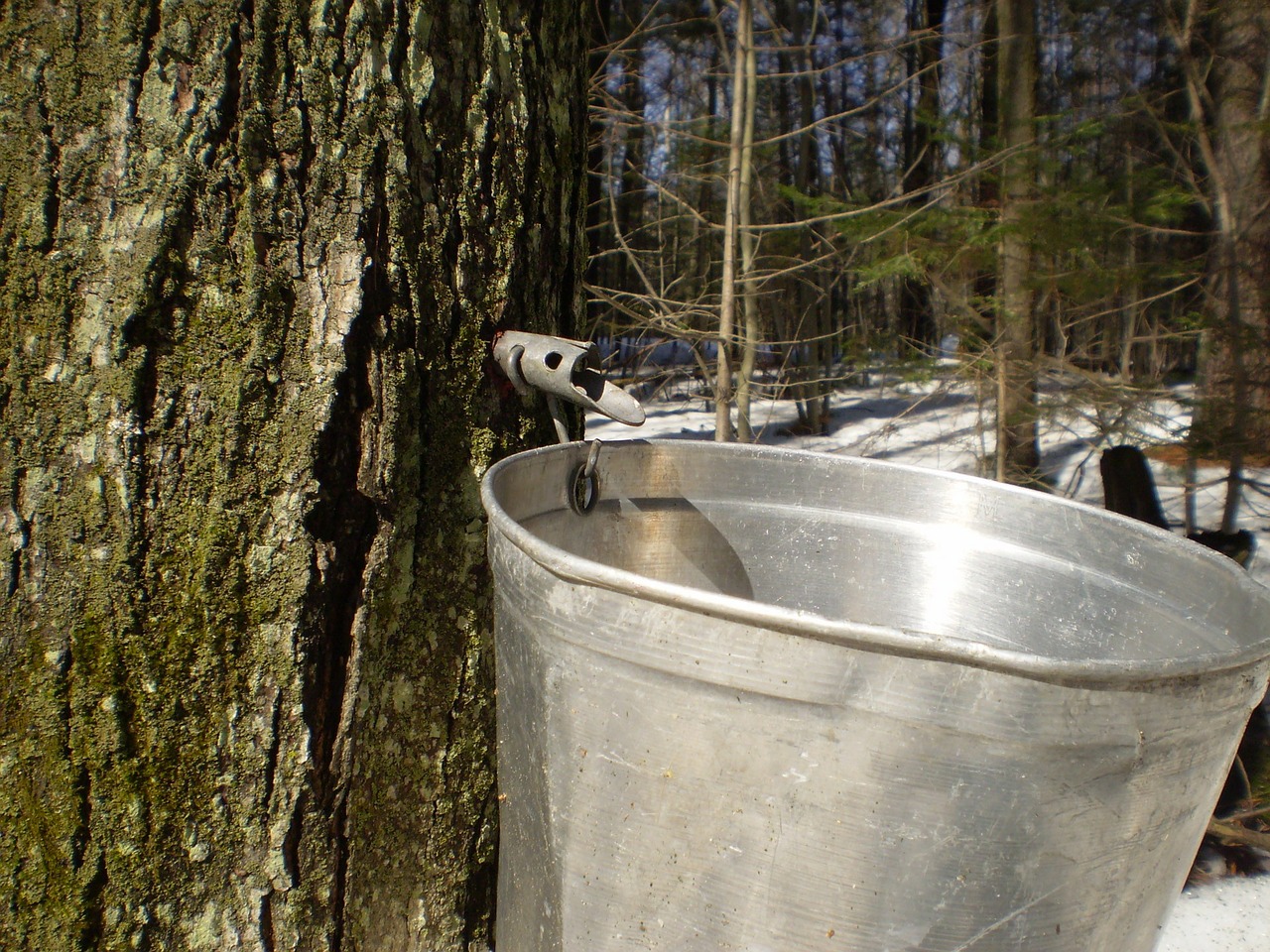 The Sweet Guide to Maple Syrup
When I was a little girl, I can remember in the early spring my grandparents always had metal buckets hanging from their maple trees. One year, when I was old enough to be curious, I asked what they were for and why the buckets were not on the tree all year long? My grandfather informed me that one of his neighbors would tap all the maple trees in the neighborhood to collect the sap. Lot's of questions followed and his patience with my youthful curiosity brings a smile to my face as I type these words. The biggest take away I remember thinking was how much sap it took to make maple syrup.
Today, the sight of metal buckets hanging from maple trees has almost become a pastime with the improvements of technology. This blog is to share with you some information I gathered about maple syrup. I dug into the archives at the Library of Congress for history, found some cool videos, gathered some book recommendations and went on a field trip to a modern day sugar house. I believe you will find this information helpful.
A North American Tradition
According to MassMaple.org there was an Iroquois Chief who threw his tomahawk into a maple tree one evening in the early Spring. When he awoke in the morning it was a warm sunny day, and there was lots of sap on his tomahawk. Can you imaging such a discovery? There are many primary documents with accounts from explorers, who sketched pictures in their journals of Native Americans, collecting and make maple syrup as far back as the 1500's.
I found these pictures in the documents online at the Library of Congress. They are nostalgic and a little closer in the historic evolution of maple syrup production.
Gathering sap from maple tress was something that was fun for friends and family to partake in doing every year. It was a social event and took some serious man power.
This picture is of a farmer, Frank H. Shurtleff of North Bridgewater, Vermont. He owned 2,000 trees that he would tap yearly. Did he own 2,000 buckets?
This particular winter in 1940, Frank only tapped about 1,000 of his trees because of all the snow. When I look at this picture all I can think is, "It takes about 40 gallons of sap to make one gallon of maple syrup."
After trudging through all the waist high snow, the friends, family and hired help would pour the sap into a large vat on a horse drawn sled. Then walk to the next tree to gather another hanging bucket of sap. When the vat was full it was off to the sugar house to boil the sap and make some maple syrup.
Over the years technology has changed the process of collecting sap and making maple syrup. Although, there are many improvements the process still takes work. We visited LaMothe's Sugar House in Burlington, CT to enjoy a tour of how a maple syrup farmer works today. During the sap harvesting months Rob Lamothe gives demonstrations, of the evolution, and how he started farming sap in the 1970's to his modern production techniques of maple syrup making.
Rob explains how he began with a metal spile and bucket in the 1970's. He continued to share, how today he uses over 15 miles of plastic tubing to harvest the sap.
Cruising CT news did a video segment about the LaMothe's, who are the largest maple syrup producer in Connecticut. Watching this quick video segment will give a better understanding of how Rob makes his yummy maple syrup. It is yummy, I speak from my experience!
This tree did NOT die from harvesting sap. Tapping maple trees, when done correctly, does not harm them in any way. New England winters can be rough and this tree was close to a paved road, This maple succumbed to the salt from snow removal and treatment of the roads.
Rob really does a great job entertaining and sharing the history of maple syrup making. I thought it was neat to know that early spiles were made from Sumac. Here is a link for instructions on how to make a spile, if you ever found the need to make one.
Hands-on and More
Now that we have learned a little about the history of maple syrup, here are some great resources to introduce kids to learning more. Starting with books is my favorite way to introduce children, to any and every topic. There are so many books and I have picked my top three and one bonus.
Disclaimer: The links are affiliate links and if you chose to make a purchase, I will receive a small percentage, at no cost to you. I feel Amazon usually has the best prices and super fast shipping. I appreciate your support.
BOOKS:
Pick #1 "A Kids Guide to Maple Tapping"
"Written especially for the young sugarmaker and filled with photos, illustrations, and activities, this book takes the reader from tree to table. You'll learn what trees to tap, how to collect the sap, how to make syrup, and the science behind this age-old process. The book also includes a special section for adults with step-by-step instructions on home sugaring." excerpt from Amazon.
Pick #2 "Maple Syrup from the Sugar House"
"Maple syrup season is here! Kelsey and her father begin harvesting sap from sugar maple trees. Family and friends join them to help in the process of turning the sap into maple syrup. " Excerpt from Amazon.
Pick #3 "Curious George Makes Maple Syrup"
Sunday is pancake day, and no plate of pancakes is complete without maple syrup. But when George runs out of his favorite topping, where will he find more? With the help of his friends Allie and Mr. Renkins, George learns how to turn sap from maple trees into his very own bottle of sweet, delicious syrup! This 24-page picture book, based on the Emmy Award–winning Curious George PBS TV show, includes a bonus activity that helps readers identify other yummy treats that come from nature." Excerpt from Amazon.
Bonus Pick – "Lady Pancake and Sir French Toast"
"A tale of 'to-go' food that is good for you! . . . Kearney's illustrations kick butter, with full command of the story's arc.. . . Teachers and students alike will delight in this food fight. Who will be the winner? Readers will be hungry to find out." —Kirkus Review
VIDEOS:
Videos are another great way to incorporate technology.
The fist video is from SciShow Kids, one of my favorite kid YouTube Channels. This is also a great video to watch if you are going to explore maple syrup by using the jelly bean science experiment. (We used maple syrup as one of the testing ingredients)
The next video shows the modern production of how maple syrup is made. Kids can be mesmerized by factories at work.
And finally, a production by Kids National Geographic. Kids like to watch other kids, and learn form watching.
After all this talk about maple syrup, I'm getting hungry. Growing up, for some reason, we always had the maple syrup with added chemicals. As an adult, once I tried the real thing I was hooked. There are so many things that can incorporate maple syrup. There is maple buttered popcorn, fudge or you might try making our easy version of the Hot Cross Bun (good anytime of the year) we used the maple syrup, we purchased on the tour, as a dipping sauce for the buns, YUMMY!!!
Thank you for reading about maple syrup. This blog was written as part of the guide for our "Farmer's Market" Poetry Journal pack. There are 11 original poems about items that can be found at the Farmer's Market. We look forward to bringing you more resources and ask that you consider following us on your favorite social media platform. We are @STEMAHAX on Facebook, IG, YouTube, LinkedIn and Twitter. If you are a teacher please follow our TpT Store. Have a wonderful day. See you soon!