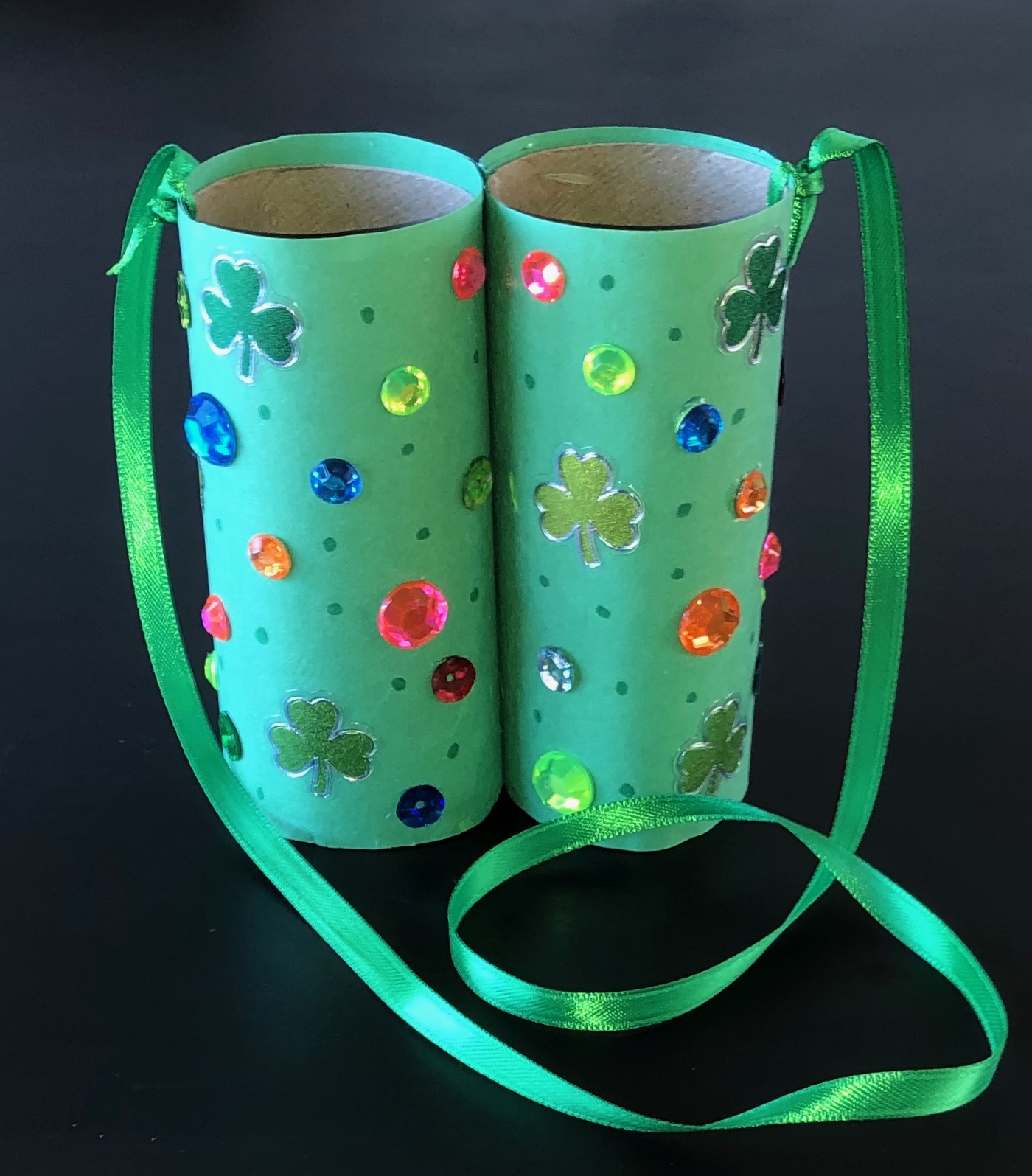 I'm Going on a Leprechaun Hunt!
Everything your child needs for a leprechaun hunt; Song & Spectacles!
Lucky Leprechaun Spectacles Design
We had so much fun making our "Lucky Leprechaun Spectacles" we anticipate your children will have fun, too. This entire companion and activity packet is great for St. Patrick's fun. Why should the fun only last for one day? Kids will want to look for leprechauns every day leading up to St. Patrick's Day!
Leprechauns are sneaky little guys who love to hide. If you spot one and catch him he needs to give you his pot of gold! Leprechauns love shiny things and the color green. Make sure to include these in your Lucky Leprechaun Spectacles!
Materials Needed:
2 Cardboard rolls
Scissors
Hole Punch
Ribbon
Glue
Hot glue gun (optional)
Markers
Assorted shiny decorations
Green construction paper or paint
STEMHAX Method:
Cover the cardboard rolls with glue and construction paper. Or use green paint and let dry. For younger children you might want to pre-cover the green construction paper on the rolls prior to starting activity.
Glue the two cardboard rolls together. For extra durability the research assistant (mom, dad, etc.) can use a hot glue gun.
Decorate the rolls with lots of shiny things to attract leprechauns.
Using a hole punch, punch a hole on each side.
Tie a ribbon though each hole.
Use these "Lucky Leprechaun Spectacles" to try and spot a leprechaun!
Kids love these and they can be used after St. Patrick's Day to explore the Springtime as it arrives. These might only be made out of recycled cardboard rolls, but they really do work to help kids focus on the pretty things in nature. They are beautifully decorated and in addition to being functional they are a work of art!
Our volunteer kiddos had a good time with the activities we shared from our companion and activity pack. The packet was inspired from the book "The Night Before St. Patrick's Day" by Natasha Wing. They had so much fun they are still talking about it, St. Patrick's Day anticipation is increasing! As a matter of fact their mom sent me this picture of her daughter eating breakfast and ready to look for the leprechauns (she gave me permission to post this picture). This inspired me to take a classic poem and make an adaptation to correlate with the "Lucky Leprechaun Spectacles." I call it "I'm Going on a Leprechaun Hunt!"
Kidboomers has a lion version of the poem in song, the beat is catchy and it can be used to sing our version.
We had such a blast making these Lucky Leprechaun Spectacles! Encourage your kids to keep an eye out for the little man who likes sparkly things, who knows what they might find! Thank you, see you soon!